About US
At Rexcel Group, we believe:
"Technology without Artistry is Irrelevant."
Ever since technology means digital, its purpose has been making faster transactions and getting more output from a person in a day. Digital piracy also runs rampant on global scale. We believe technology can be more than just digital. When fused with art, technology becomes inspiring which is difficult to put into words, transmit, store and copy. Technology needs artistry to remain relevant and avoid commoditization. We know how to do it.
"Creativity without Execution is Worthless."
A great idea with no action is as good as an artist's daydream. The only way to prove the idea is to create it. We are relentless when it comes to solving problems and leading the idea to a commercial product.
Vision
We bring inspiration to technology.
Mission
Create high tech masterpiece.
Core Values
End user satisfaction is our No.1 priority.
Improve efficiency in working with partners worldwide.
Harness the power of art to integrate mind, body, spirit and technology.
Deliver superior advantage to all stakeholders in alliance with Rexcel Group.
Leadership
Since its founding in 2005, Rexcel Group has been led by a uniquely diverse group of world-class experts in sales & marketing, arts & culture, strategic planning & product road map, project & program management, UX & ID design, systems architecture, software coding, hardware engineering & manufacturing. We are all unified by the common vision, mission and core values to solve most complex issues including:
1.  Codifying tacit values to design innovative products that deliver essential differentiating factors
2.  Delivering cutting-edge prototype that looks at both the design and manufacturing process
3.  Selecting the best technologies and manufacturers for long-term growth
4.  Negotiating international strategic partnership alliance
5.  Maximizing alliance benefits through effective management of partnership projects
6.  Delivering sustained ROI through improving engineering performance
7.  Maximizing revenue through effective global sales and marketing initiatives
Each group member is a superb contributor of her/his unique expertise that is shared on a "Member Platform".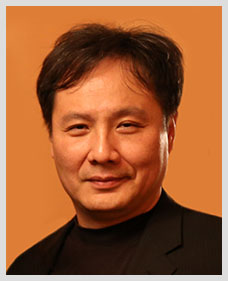 Ren Egawa CEO
Our CEO, Ren Egawa and key group partners oversee this Platform to ensure multiplier effect is produced to deliver unique and special result that exceeds expectation. Ren played a key role in transforming video industry from analog to digital in the 1990s and has been at forefront of nearly every digital transformation ever since. He has been a researcher, product designer, engineering manager, market and technology strategy executive at leading organizations in Japan, US and Europe such as Panasonic, Sarnoff/SRI and STMicroelectronics. He enjoys working with experts worldwide to create millions-dollar businesses and never forgets that successful products always touch human feelings where art rules.